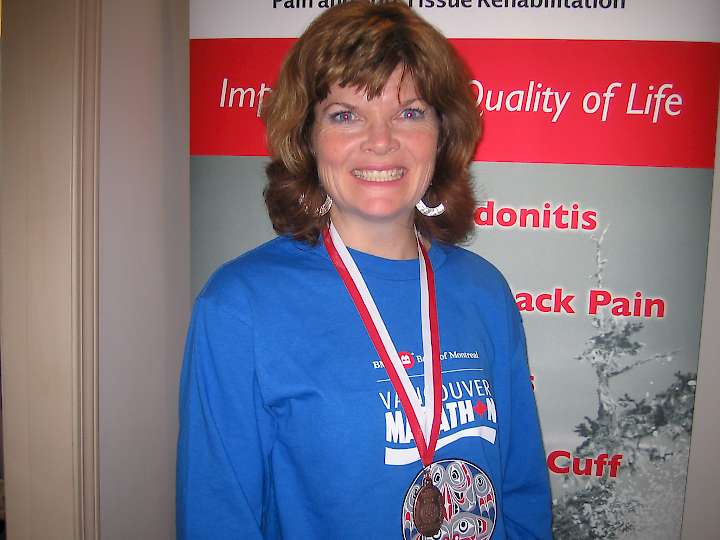 "If you:
Have plantar fascitiis
Are a typical bull-headed runner
Have a running event that you MUST complete, even though you're injured
All of the above
…then you need Dr. Rob, his dedicated team and Laser Therapy.
I successfully completed the Vancouver Marathon on May 6, 2007 in four hours and 15 minutes WHILE INJURED thanks to Laser Therapy. Amazingly, the injury only bothered me during the final four miles, which is incredible considering that I was barely walking properly four months ago.
I had commited to running the marathon on behalf of the Leukemia and Lymphoma Society, had raised thousands of dollars towards blood cancer research in honour of my Dad and father-in-law, had friends and family rooting for me, following my progress and THEN came down with a serious injury at the beginning of training. What to do?
I had heard that plantar fascitiis can respond very well to Laser Therapy so I contacted Panorama Village's LaserHealth® Solutions. For anyone who has never experienced plantar fascitiis... it is not pleasant. You cannot put your full body weight on your heel or arch because the pain is that bad... nevermind, train to run 26.2 consecutive miles. I was limping from the bed to the shower in the morning.
Dr. Rob, Judy and Emilie assured me that with laser treatments I would feel significant improvements very quickly AS LONG AS I STOPPED RUNNING. Me being a 'type A' runner (see 2.) above) said that I don't want to stop, I want you to help me manage this injury so that I can successfully keep my commitment to my friends, family and the Leukemia and Lymphoma Society. And that's exactly what happened. Had I not received the treatment, once or twice a week throughout my entire training period, and their helpful advice, I wouldn't have been able to keep my commitment. I would have been in debilitating pain. I certainly wouldn't have been able to complete a full marathon and still run across the finish line. My deepest thanks to Dr. Rob and especially to Judy and Emilie, who are the best foot-fixer-uppers ever!"
Laurie Marathon finisher 2007